A fashion CEO's quick guide to sustainable fabrics
I believe brands cannot be 100% sustainable, but products can be. Sustainable fashion is a category not even the biggest brands are planning to miss out on; so let's help you with the most important information you need - experiences of brands who tried alternate fabrics.
This blog will take a lot of the initial research off your table. My mission is to talk to fashion CEOs and founders across India and bring you their insights and experiences with different sustainable fabrics.
Enjoy the dense learning!
Interview One - Shivangini Padhiyar, Co-founder, The Summer House | Founded 2015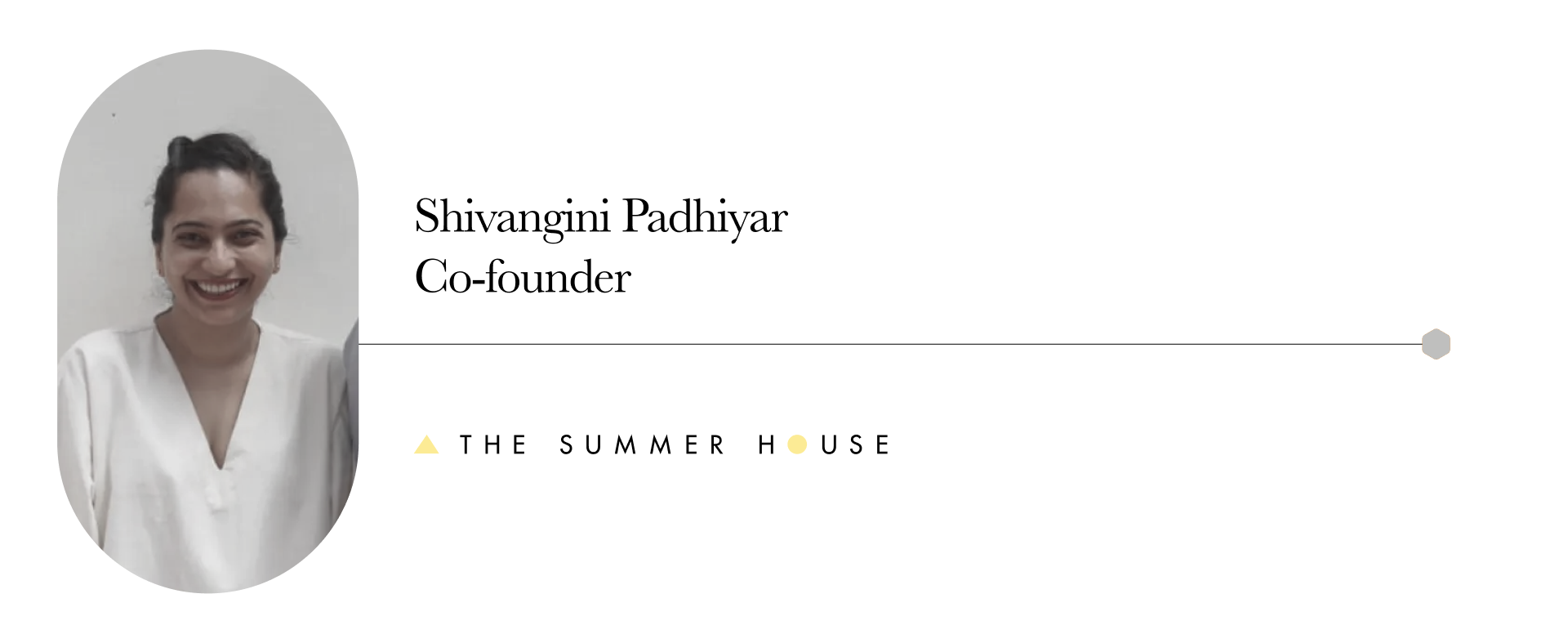 Shivangini is an encyclopedia for sustainable fabrics and their sources. Over the last 8 years of leading her brand, she has experimented with a variety of fabrics. Shivangini also happens to be someone who would want to share her trials so that the industry can collectively become more sustainable.
As we begin the interview, she reminisces "We didn't have a background in fashion, so we started by researching fabrics and soon realized the huge impact they had. Studying how they are produced and sourced was painful. But we also knew that the sustainable fabrics we choose would have to meet our quality standards."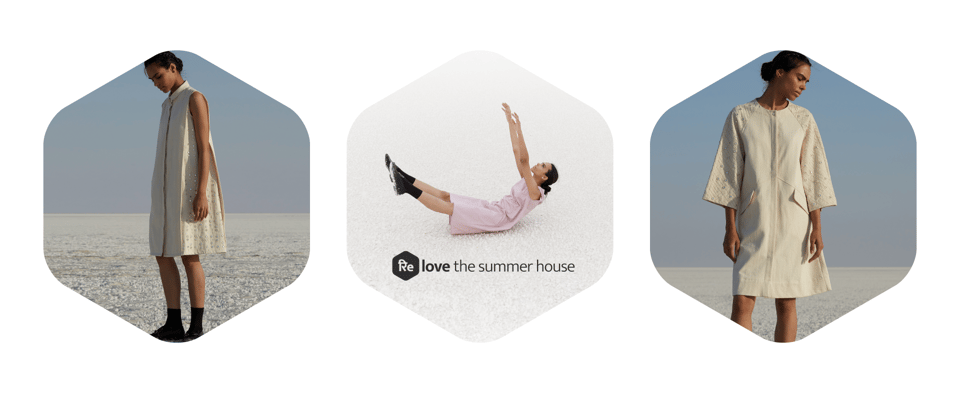 Kirti: What was the first fabric you chose for The Summer House?
Shivangini: The first fabric we tried was organic cotton from Karnataka, it was easily accessible, price effective, and best suited for Indian weather. We didn't want to go for just cotton, because that's an extremely thirsty crop which uses a lot of pesticides.
Kirti: Did you also try Khadi Cotton?
Shivangini: The second fabric we tried was Khadi from Gujarat, the making of khadi is eco-friendly as it does not use any electricity and we were able to find KVIC certified Khadi which was also zero dye. Our customers love this fabric today but we did have to initially do a lot of education on what zero dye means for them and the planet.
Kirti: What did you try next?
Shivangini: The third fabric we tried was Tencel which is basically Lyocell, it's known to be very sustainable.
Kirti: I believe people have questioned the sustainability of Lyocell because of its longevity. Is this true?
Shivangini: Yes, we experienced that Lyocell lets go of microfibres in every wash which makes it look faded quickly. We tried many experiments, we tried a lightweight fabric, and we tried minimal lighter dyes but we have not succeeded. However, this is one fabric we do want to keep our experiments on with because if it works it can be a great sustainable alternative.
Shivangini: The fourth fabric we tried was Orange Fibre, we loved it the instant we touched it, it was so soft. But every time we washed it, it shrank. Which would be a fabric impossible for customers to accept.
Kirti: We know you also tried linen, your brand is famous for lovely linen dresses, how has that been?
Shivangini: Interestingly this is the fifth fabric we tried. It is more sustainable than cotton and does not need a lot of care because good quality linen is a very strong fabric. Flax, the crop used to make linen, is not grown in India for its fibre. It's only grown for other purposes. Linen fibre is imported to India and then the remaining processes are done here. Of course handwoven linen is even more sustainable but overall it's a fantastic material. I really hope we can one day start producing the crop in India itself.
Kirti: I recently bought one of the pieces from your swimwear collection, it's made of Econyl. Recently when microplastics were found in human blood and the topic of micro shedding became a concern, what did you think then? Would you tell us more about your experience with it?
Shivangini: Yes, our swimwear is made of econyl. We went on to try econyl as it's made from industrial plastic, waste fabric and fishnets from the ocean. We found out that the fabric sheds microplastic in the washer. The solution to less microplastic pollution is to wash it by hand and not in a washing machine.One would love swimwear in natural materials but elasticity is the main reason one has to use synthetic for swimwear. For now econyl is the best option available to us for swim.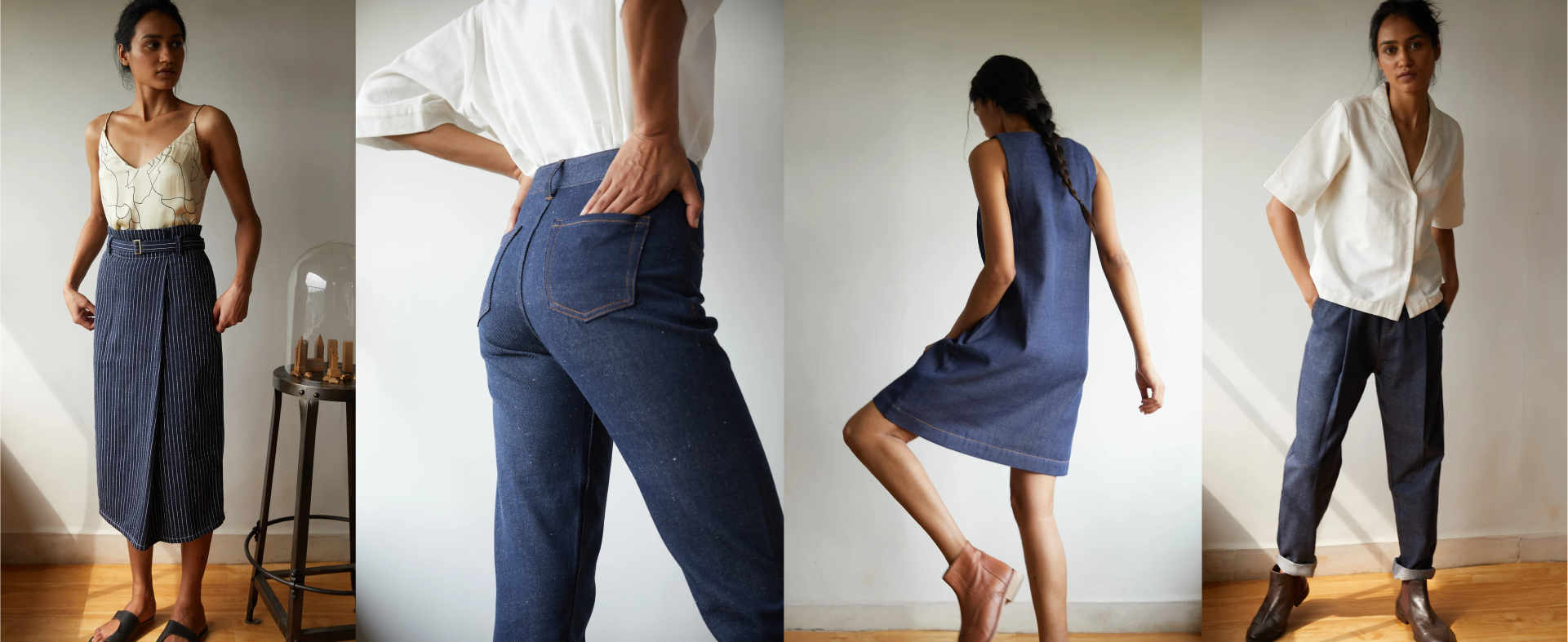 Kirti: Your sustainable denim range is rather interesting, why don't you tell us a little about the fabric?
Shivangini: Kirti I recently saw someone buy our denim jackets and jeans made up of recycled fabric be resold through our relove program and that filled me with so much joy, what can be more sustainable than recycled fabric garments going circular!
To make this fabric, old denim is shredded and turned into fibre form. This fiber is then handspun and handwoven to make new fabric which is used for our jeans. This process utilizes almost negligible amount of water and electricity in comparison to a new pair. Not having elastane in recycled denim has demotivated its adoption but it's definitely far more sustainable than one with elastane. Those cannot even be recycled well because of being blended.
Kirti: Have you worked with Bamboo at any point?
Shivangini: I have heard good things about the fabric, but I am yet to be convinced that it is a sustainable source. I have read that a lot of bamboo agriculture depends on deforestation and the crop consumes a lot of water.
Kirti, you wore a beautiful hemp suit and spoke about the benefits of the fabric. It did encourage us to use hemp. I have wanted to work with the fabric ever since. So, we're looking forward to experimenting with Hemp in the future.
Kirti: Finally, let's talk about dyeing, it's one of the most problematic processes, which makes sustainable grey fabric also unsustainable and bad for humans. I understand that the chemicals in the effluent harm the environment too.
Shivangini: We have tried natural dyes, but because they lead to immediate fading, it defeats the purpose of the longevity of the garment, which is also important for sustainability. While we chose zero dye Khadi it only sold once we educated our customers through explanatory posts on Instagram. That slow education developed loyal customers of zero dye khadi who to date wait for that collection to come in. Currently we are only working with factories that have certified wastewater and effluent management systems. This ensures it's not dumped into the earth or water bodies. But yes, a waste free dyeing process would be the dream.
Thank you for making it to the end of this very insightful crisp conversation.
I do believe that the most sustainable brands are the ones who know how to balance customer preferences and sustainability of their fabrics and The Summer House is doing a fabulous job of it.

Stay tuned for a lot more founder voices coming through, talking about their experiments with Sustainable Fabrics.